Dr. Donald W. Miller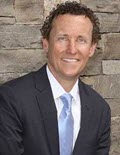 I am devoted to enhancing smiles and providing my patients with the highest quality of preventative and restorative dental care. The partnership I establish with each patient is the key to dental wellness and to reaching a mutual goal with my patients for their overall well-being and an improved quality of life.
I know how important a fabulous smile is to everyone as it boosts your confidence, self-esteem and self-assurance, enhanceing your interaction with others. A truly gorgeous, natural smile, one that lights up a room, says something positive about that person.
We invite you to browse through our website and get to know us better. We have covered a wide variety of topics from Cosmetic Dentistry to Preventative Care Services, Implants and Invisalign – all to better serve you. We realize that when it comes to your smile, you have choices and we want to help you choose wisely!
Outside of the office you will find me enjoying special time with my wife and children Sophia, Devon and Michael, on the golf course, skiing or sailing on the Sound.
Education & Extracurricular activities:
Boston College – Bachelor of Arts and Science
University of Connecticut – DMD
University of North Carolina – Surgical and Cosmetic Residency
UCONN Dental School – Volunteer teaching
Member of Connecticut and American Dental Association
Member of Academy of Implant and Cosmetic Dentistry
Member of Academy of General Dentistry